Description
Contec non-Contact Forehead Thermometer TP500 (One-Year Warranty)
Digital Infrared Thermometer Forehead Temperature Gun Color LCD Backlight Alarm, Batteries not included          

Function
This product can be used in poultry, human body temperature measurement. 

PERFORMANCE PARAMETERS
Temperature unit:

Celsius (° C) / Fahrenheit (° F)
Memory data:
30 groups
Resolution:
0.1 °C
Temperature unit:
Celsius (° C) / Fahrenheit (° F)
Memory data:
30 groups
Power management:
intelligent shutdown,
ultra-low power consumption control;
power,   display; low power reminder
Range of displayed temperature:
32 °C ~ 43.0 °C
Maximum allowable error: 
35.0°C ~ 42.0 °C:± 0.2°C        <35.0.C or >42.0.C:±0.3°C

Power supply:

DC3 V (2 AAA batteries)
Protection against liquid penetration:
IPX0
Maximum allowable clinical repeatability:
±0.3.C
Duration of use:
5  years
Measurement time:
less than 1 second
Body weight:
about 130g (TP500) 
Display mode:
LCD display 
Contec Non-Contact Infrared Forehead Thermometer TP500
Technical parameters:
1 Precision measurement:(using imported infrared detection system)
2, rapid temperature measurement: measurement time ≤ 1 second.
3.Easy to use: a key measurement, easy to operate.
4. Non-contact: measuring human forehead without touching human skin.
5. service life: install 2 AA batteries, which can be used more than 100,000 times, and the service life of the product is more than 3 million times.
6. Measurement distance: it can be adjusted within 5~15CM without fixed measurement distance.
7.Large screen display: big screen LCD display, white backlight, any light can be clearly displayed.
8. Temperature alarm: set the alarm temperature freely.
9. Storage data: 32 measurement data are stored for analysis and comparison.
10.Setting modification: Parameters can be modified to accommodate different skin color(white, black, yellow, etc..)
11. Unit Conversion: Use Celsius and Fahrenheit to convert each other
12. Plastic-absorbing packaging of color boxes
Special Features :

Intelligent Auto Shut down
Just One button Control 
Ulta-low power consumption
Backlight Display
3 Color Temperature Display
Low Power Reminder
Warning sound reminder
Performance Paramaters:

Temperature Unit : Celsius ('C) / Fahrenheit ('F)
Temperature Display Range : 32'C ~ 42.9' C
Measurement Time : Less than 1 Sec
Power Supply : DC3 V (2 AAA Batteries)
Display Mode : LCD Display
Memory Data : 30 Groups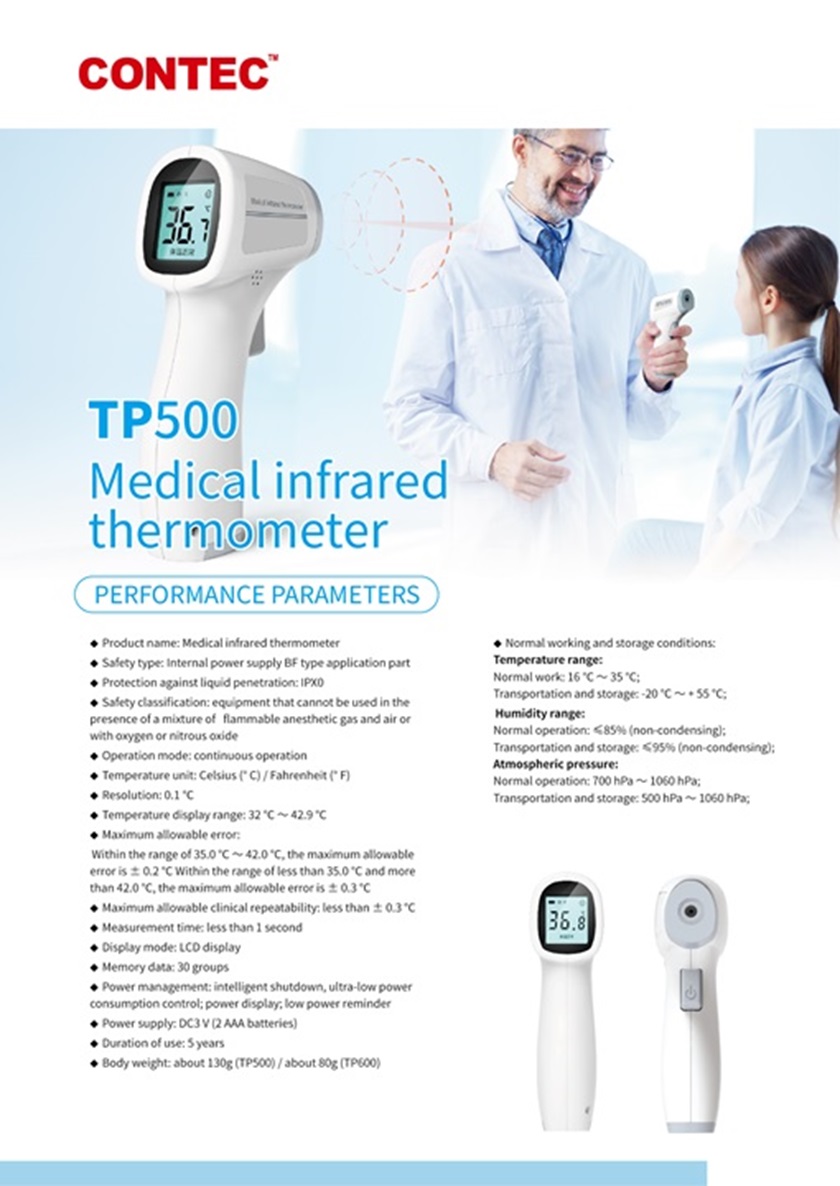 Payment & Security
Your payment information is processed securely. We do not store credit card details nor have access to your credit card information.