Description
Structo Sterile 3Dprinted Nasopharyngeal Swabs,100swabs/box,24bxs/case
Important- For Pre-order please email us at info@medmart32.com
Individual Sterile Peel Pouch; 100 swabs/box

24 boxes/case
Designed specifically for nasopharyngeal collection with 75mm (2.9 inch) flexible neck and 3.4mm (0.13 inch) diameter tip.
Hollow mesh structure provides flexibility for patient comfort while maximizing collection effectiveness.
Non-fibrous tip results in excellent specimen elution.
With a thin, flexible neck and hand-feel closely modelled after traditional flocked swabs, Structo Nasopharyngeal (NP) Swab serves as a familiar substitute for COVID-19 testing by healthcare professionals.
Clinically validated, Structo NP Swab has equivalent efficacy to flocked swabs when testing for SARS-CoV-2 with Real Time qRT-PCR test.
Made in accordance to Structo's ISO 134851 QMS requirements from biocompatible material and sterilized to ISO 111352 standards for your peace of mind.
*HSA Class A & FDA Class 1 listed medical device
Made in Singapore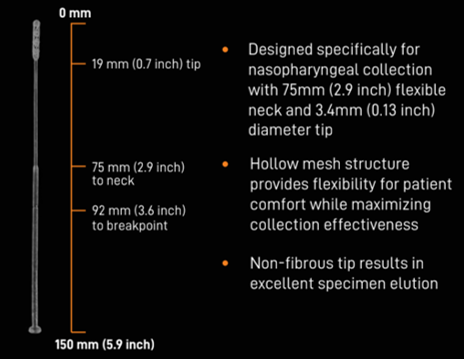 Payment & Security
Your payment information is processed securely. We do not store credit card details nor have access to your credit card information.